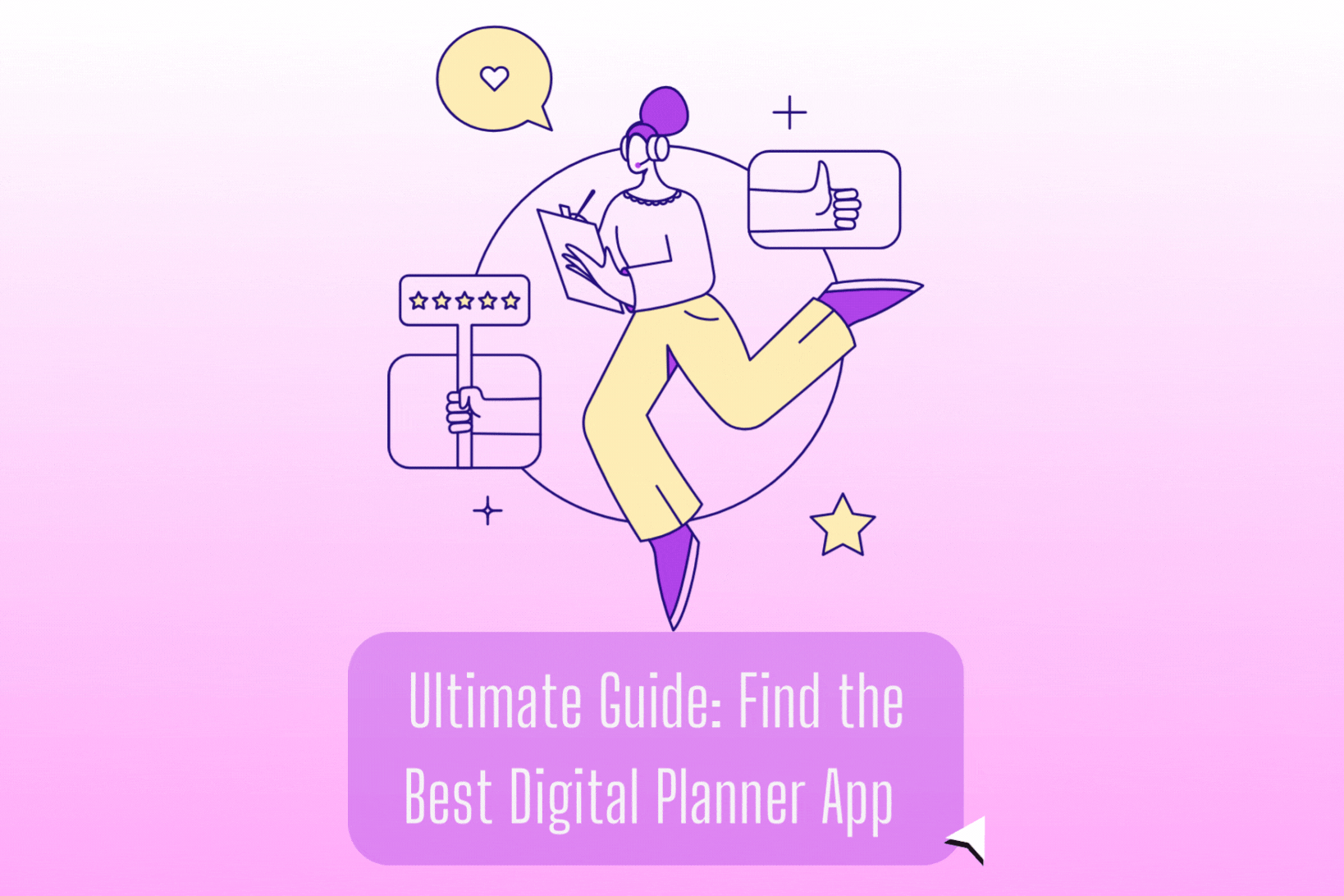 Your Ultimate Guide to Finding the Best Digital Planner App for 2023
by
OLIVIA RAYMOND
on Oct 05, 2023
Hey there, digital planning enthusiast!

So, you've got an amazing digital planner that's ready to help you conquer life, but you're in the dark about the best digital planner apps out there. Don't worry; I've got your back!

In this blog post, I'm your trusty guide on a quest to uncover the top six digital planner apps for 2023. Together, we'll make you a digital planning pro!

What Are Digital Planners, Anyway?

Digital planners are pure magic! Imagine your traditional paper planner but with a digital twist – they're like the upgraded version you never knew you needed. 🪄

Picture this: a digital planner is a fantastic PDF file you can swiftly upload to your favorite annotating or note-taking app. And here's why they're utterly enchanting:
Eco-Friendly: Say goodbye to paper waste and embrace a more sustainable way of planning.
Endless Pages: Add as many pages as your heart desires without having to buy a new planner.
Duplication Delight: You can duplicate pages to your heart's content – no spells required.
Design Freedom: Get creative! Customise your planner with digital stickers, fonts, pictures, and other delightful elements.
Flexible & Versatile: Bend, shape, and mold your digital planner to suit your needs effortlessly.
Essential Tools for Your Digital Planning Adventure
Before we embark on this digital planning journey, let's make sure you're well-equipped. Don't fret; I've curated a list of essential tools and accessories to enhance your digital planning experience.

For iPad Enthusiasts:
Apple 2022 10.9-inch iPad:  If you're ready to transform your life through digital planning, an iPad is your trusty companion. Choose from various colors and models, including iPad Pro, iPad Mini, and iPad Air. Ensure it fits your needs – it's a game-changer!
Apple Pencil (2nd Generation):  For smooth writing, sketching, and organizing within your digital planners, an Apple Pencil is your magical wand. There are some dupe options available as well.
Apple Magic Keyboard for iPad: Quickly jot down your daily plans with the magic keyboard attached. Dupe options are out there too.
DTTOCASE iPad 10th Generation Case 2022:  Keep your iPad safe and stylish with a protective case. We wouldn't want any mishaps!
For Android Enthusiasts:
SAMSUNG Galaxy Tab S8: My personal favorite among Android tablets, the Samsung Galaxy Tab S8 offers a user-friendly experience, sleek design, and a range of stylish colors.
SAMSUNG Original Official S Pen Stylus: Get organized and look professional with a Samsung stylus pen. There are alternative options available too.
Fintie Hybrid Slim Case for Samsung Galaxy Tab S8: Protect your tablet in style with a sleek case.

Now that you're armed and ready for digital planning, let's dive into the best digital planner apps for 2023. Get ready to unleash your planning prowess and make your life more organized, efficient, and magical! Whether you're an Apple enthusiast or an Android aficionado, we've got you covered.

For the Apple Admirers:

Goodnotes: Your Trusty Sidekick

Goodnotes is like the trusty companion who never lets you down. It's one of the finest note-taking apps for Apple devices, and it's my personal go-to for digital planning. Why, you ask? It's as easy as apple pie!


User-Friendly: Goodnotes is a breeze to use, even for beginners.
Master of Organisation: Say goodbye to clutter – Goodnotes keeps your planners and documents neatly organised.

Here are some spellbinding Goodnotes features:
Search Magic: Easily find what you've written, even in the vast digital sea.
Folder Sorcery: Keep your notes organized with folders.
Handwriting Styles Galore: Write notes your way with a variety of styles.
PDF Wizardry: Annotate PDFs effortlessly.
Creative Freedom: Add elements, shapes, images, and more to personalise your notebooks.

 Notability: Elevate Your Notes

Notability is your portal to the next level of note-taking. Using digital planners on Notability is as easy as a magic trick. It's similar to Goodnotes but leans more towards quick note-taking.


Simplicity Meets Efficiency:  Notability is effortless and straightforward.
Note-Taking Delight: Quickly jot down notes and ideas with ease.

Here are some of Notability's enchanting features:
PDF Mastery:  Annotate PDFs like a pro.
Document Conjuring: Manage your documents with finesse.
Hyperlink Hocus-Pocus: Navigate through PDF hyperlinks seamlessly.
import Enchantment:  Easily bring in documents and images.
Sticker Magic: Add stickers to spruce up your notes.
Dotted Dreams: Enjoy dashed and dotted lines for precise planning.

Nebo: The Handwriting Whisperer

Nebo is where your notes become beautifully organised. Importing your digital planner to Nebo is a piece of cake. What sets Nebo apart is its exceptional handwriting recognition tool – it brings your words to life!


Smart Sketching: Craft intelligent diagrams effortlessly.
Handwriting Harmony: Nebo recognises your handwritten words with ease.
PDF Brilliance: Annotate PDFs like a pro.
Free-Flowing Notes: Create notes freely as your thoughts flow.
Math Magic: Perform math calculations with flair.
Import Enchantment: Bring in documents and images with grace.

For the Android Adventurers:

Samsung Notes: The Android Classic
Samsung Notes is the digital planning tool of choice for many Android users. It's free, it's simple, and it gets the job done with style. The user interface is as friendly as a warm welcome.


Effortless Sharing: Share your notes seamlessly.
Brush Brilliance: Use various brush types and color mixers.
Multimedia Notes: Create notes with text, images, voice recordings, and music.
Quick Memos:  Swiftly jot down memos.
PDF Prowess: Annotate PDFs with finesse.

Noteshelf: The Versatile Virtuoso

Noteshelf is the versatile note-taking app compatible with both Apple and Android devices. It empowers you to create notes in your own unique style, offering a range of customizable options.


PDF Magic: Markup PDFs effortlessly.
Covers and Templates Galore: Choose from a variety of covers and templates.
Audio Artistry: Record audio on the go.
Presentation Perfection: Conduct hassle-free presentations.
Search Sorcery: Find your handwritten notes with ease.

 Penly: The Beginner's BFF
Penly is a fantastic note-taking app, especially for newcomers. It boasts adorable planner templates and all the features you'd need for digital planning, wrapped up in a user-friendly package.


Free Planner Templates: Access a treasure trove of digital planner templates.
Photo Power: Easily add photos and images.
Customisation Charm: Customise your pen with different colors, thickness, and styles.
PDF Enchantment: Annotate and edit PDFs like a pro.
Color Your World: Enjoy a color wheel for your pen, highlighter, and text.
Sticker Extravaganza: Import multiple stickers at once.

Final Thoughts: Your Digital Planning Odyssey

Well, there you have it – my handpicked selection of the 6 best digital planner apps for the year 2023. 
I truly hope this blog post has been your guiding star on your digital planning voyage. And guess what? I had a blast creating it, just as I hope you had a blast reading it!

But the journey doesn't end here. 

In the vast galaxy of digital planning, your adventure is just beginning. I want to hear all about it! Share your digital planning escapades in the comment section below. Let's chat, swap stories, and inspire each other.

Here's to crafting a digital planner that's as unique as your dreams and as organised as your goals. May your planning journey be filled with inspiration, creativity, and endless possibilities!

Happy planning, Roses. Until our paths cross again in the world of digital dreams!